Automatic Tape and Reel Machine with Bowl Feeding HJC-007S
Name: Automatic Tape and Reel Machine with Bowl Feeding HJC-007S/ Metal pin tape and reel machine/ Metal dome tape and reel machine/ switch and relay tape and reel machine/ battery pin tape and reel
Model: HJC-007S
Use: the taping packages of a variety of surface mounting devices (SMD); bowl feeder customized per component specification;
Set up is simple via touch screen interface, 2D CCD inspection is optional.
Features:
Components are automatically fed by  vibrating bowl. Nozzle pick up components and place into carrier tape and seal. Applicable to a large number of electronic components, connectors,hardware, plastic rubber and other products suitable for carrier tape packaging.
According to the customer's technological requirements, besides the basic tape and reel function, it can also add image detection, electrical performance testing and other functions.
Function introduction:
1. Vibrating bowl realizes automatic feeding of products
2. The manipulator sucks the product from the vibrating bowl to the carrier tape.
3. Taping module completes the sealing of tape
4. Touch screen for machine operation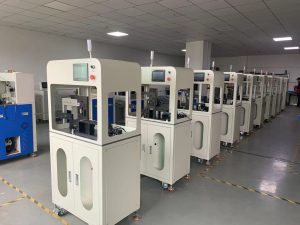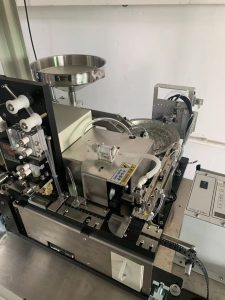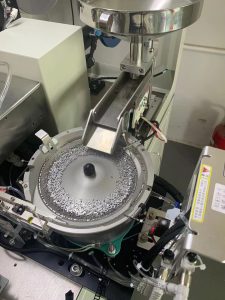 Model
HJC-07S  Auto Component Taping Machine
Feeding
Rubber reel or paper reel conforming to EIA-481 standard
Tape width
8—32mm
It is suitable for automatic taping of various electronic components, connectors, hardware, plastic rubber and other products.
Control system
Programmable Logic Controller+Touch Screen+Step Motor
Temperature control
PID Temperature Control
Taping speed
3K-15K UPH per hour (determined by product type)
Calculator
—
Package type
Suitable for hot and cold seals
Selective configuration
Image Detection System and Electrical Performance Testing System
Weight
160KG (Vibratory disc)
Mchine Dimension
2030*528*583(L*W*H)
Power supply
AC220V / 50Hz
Pressure
0.40~0.6Mpa
Carrier tape empty alarm
available
Cover tape empty alarm
available
Empty pocket detection
available
Counter Qty/Reel
available(software auto count)
Component Orientation alarm
Non standard configuration/Optional sensor and image detection system
Carrier to cover weld strength check
Need "Peel force tester" for check
Setup time for reel changeover
2~3minutes
Setup time for model changeover with different tape width
2~3minutes
Machine supply lead time
around 30days (customized per component size and customer requirement)
Options:
Machine can be dual bowl feeders, which can improve speed;
2D camera can be added for component orientation or mixing detection;
Re:Automatic Tape and Reel Machine with Bowl Feeding HJC-007S